Suzanne Tate's company began as a sole proprietorship representing and marketing artwork for several artists. Suzanne published art products -- prints, postcards, posters and notepaper that were sold in shops on the Outer Banks of North Carolina. She also wrote and published three oral history books: Bring Me Duck (Tales of Duck, NC), Whalehead (Tales of Corolla, NC), Memories of Manteo, NC and Logs and Moonshine.
James Melvin, illustrator of Suzanne Tate's Nature Series, is one of the artists whose work was published and distributed by Suzanne. James' background in commercial art and versatile style proved to be ideal for him to become a children's illustrator. "He makes my stories come alive," Suzanne says about James' colorful and whimsical art.
Crabby & Nabby, the first book in Suzanne Tate's Nature Series, was published in August 1988 by Nags Head Art. Teachers and parents discovered Crabby & Nabby while vacationing on the Outer Banks of North Carolina.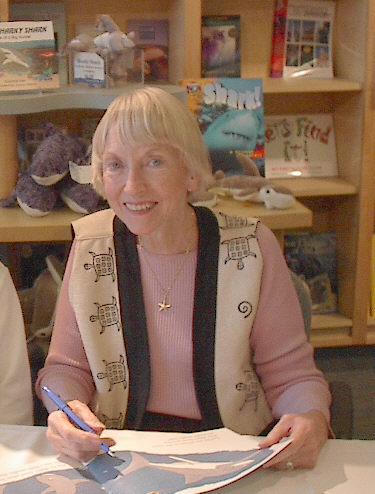 Response to the book was outstanding, and in 1989, it was chosen to be read to every kindergarten in Virginia by the education department of the Virginia Institute of Marine Science.
Since Crabby & Nabby was designated Number 1 of a Nature Series, customers soon began asking for Number 2. Suzanne responded by accompanying her husband Everett Tate, a commercial fisherman, on a fishing trip. She wrote Billy Bluefish in the bow of his boat! Everett served as a knowledgeable consultant for both text and illustrations for several years until his death in 2008.
There are now 31 titles in the Nature Series and 7 teaching guides. Suzanne also has 5 titles in Suzanne Tate's History Series, 2 teaching guides, a coloring book and an activity book and four oral history books. Three million copies have been sold. Nags Head Art, Inc. is a family corporation consisting now of Suzanne and son Mark.
Published by:
Nags Head Art, Inc.
P.O. Box 2149, Manteo, NC 27954

For information:
Call 1-800-541-CRAB (2722) Fax 1-800-246-7014